Welcome to Harbour Village Marina
Hampstead, North Carolina

If you have suggestions, please send them to the Harbour Master:
Click Here to E-Mail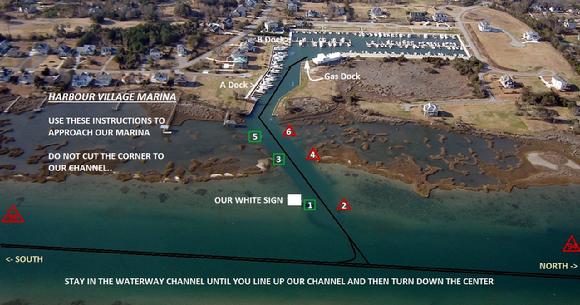 Aproach Instructions for Harbour Village Marina
SPECIAL MARINER'S NOTICE
East Coast Alerts
By Mel Neale
January 29, 2015
Surf City Bridge Repairs:
Mariners are advised to take caution and proceed slowly when approaching the NC Route 50-210 Highway Bridge (34.430397°-77.549562°), located on AICW, mile 260.7, in Surf City, NC. Work crews and barges may be in the waterway conducting repairs to submarine cables and terminals. To facilitate the necessary repairs the bridge will be closed to navigation from 6 p.m. on February 22, 2015 to 6 p.m. February 24, 2015, except for two openings at 10 a.m. and 3 p.m. each day. The channel shall remain open to navigation for vessels that can clear the 12 feet of vertical clearance in the closed position. (5th District LNM Week 50/2014)
This information is not to be used for navigation. Consult the latest charts and Local Notices to Mariners and use prudent seamanship. Conditions may change. Any person or entity that uses this information in any way, as a condition of that use, agrees to waive and does waive and also hold authors harmless from any and all claims which may arise from or be related to this use.
****
NOTICE: The 2015 HVMI Named Storm Plan has been posted the Marina Forms tab of the web site. Dont delay, print and submit you form now. Any forms not received by April 1, 2015 will be considered delinquent and a $50 late fee will be assessed.
Fuel Services Available
Both Gasoline and Diesel Fuel Available
The Marina continues to sell
Ethanol Free Gasoline!
Ethanol in your boat's gasoline can be a bad thing!
Click here for more information


Winter Hours (Effective November 1 ,2014 - April 1, 2015)
Saturday, Sunday 9:00AM - 4:00PM
Monday, Thursday, Friday - 9:00AM - 4:00PM
Closed Tuesday and Wednesday

| | |
| --- | --- |
| VISITS SINCE MAY 14, 2007 | |